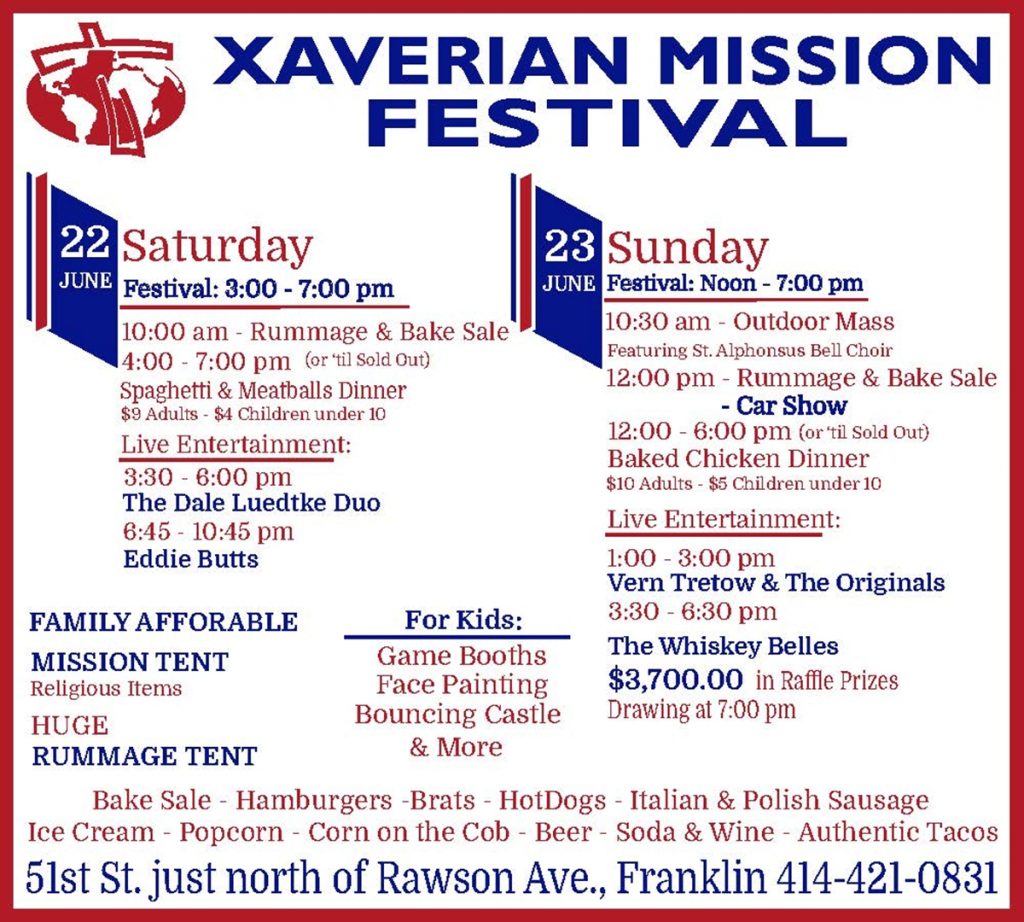 The annual Xavier Knoll Mission Festival has new children's games this year along with a bounce castle and face painting. "Local artisans" will have hand-crafted items for sale. The mission tent has an especially fine collection of items and books for sale. On Sunday afternoon, there will be a classic car show for those who admire autos from the 1950's, 60's, 70's, etc. in pristine condition. Upholding a long-standing tradition there will be an outdoor Mass on Sunday, June 23rd at 10:30 AM featuring the St. Alphonsus Bell Choir.
The Mission Sending Ceremony will take place at the Eucharistic Celebration on Sunday. Fr. Edgar Ruiz, s.x. will be assigned to Indonesia and leave the USA after the Festival. Fr. Joe Matteucig, s.x. has been reassigned to Taiwan. Fr. Joe will leave the USA at the end of August 2019 and should reach Taiwan in November, after a bit of rest in Italy.
USA Xaverians 2019 Retreat

---
---
Mission Banquets
"How good it is when brothers and sisters come together." (Psalm 133:1)
The month of October – the Mission Month – provided us with two opportunities to celebrate our missionary vocation while at the same time giving thanks to all our friends and benefactors for their tireless support for our communities and our missions.
On October 6th, the Holliston community gathered with local friends and benefactors, at the St. Joseph's Parish Center for the Annual Mission Banquet. While the Franklin community gathered at a local Crowne Plaza Hotel on October 20th. Gratitude and thanksgiving were the hallmarks of these two evenings.
The "icing on the cake" so to say, was the sharing of our missionary spirit especially through the input of Fr Rocco Puopolo on the "changing faces of mission" in Holliston and the nice presentation by Fr. Adharius Dharmawan Fr. Yohannes (Wawan for friends) on the "work of the Xaverian Missionaries in Taiwan – China", in Franklin. These two events reminded us once again, that we are not alone, but many volunteers, friends, and benefactors are partners with us in mission as we continue to "make of the world a single family" a reality wherever we are…
~Fr. Joe Matteucig SX
Click on the links above to see slide shows of the joyous occasions on the individual house pages.
---
Common
Ground Meetups in Wayne, NJ and Framingham, MA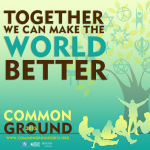 Conversations Among Humanists, Atheists and Religious Believers is a joint program of the Xaverian Missionaries of the USA and United Kingdom which seeks dialogue among atheists and religious believers. How can religious people, atheists and humanists find ways to bring good into the world together?
Our NJ meetings take place

on the last Sunday of the month at 3:00 PM at the

Provincial House, 12 Helene Court, Wayne, NJ JOIN US
Our Massachusetts meetings are usually on the last Sunday of the Month at

4:30 PM at Edwards Church UCC, 39 Edwards Street, Framingham, MA. JOIN US
---