Xavier Knoll, Franklin, Wisconsin
Xavier Knoll, Franklin, Wisconsin
Xaverian Missionaries – 
Midwest Mission Center
4500 Xavier Drive – Franklin, WI 53132
(414) 421-0831
Office: 8am-4pm (Mon-Fri)
franklin@xaverianmissionaries.org
Superior & Vocation Director
Fr. Alex Rodriquez fralex@xaverianmissionaries.org
---
2019 Xavier Knoll Mission Festival


The Mission Sending Ceremony took place at the Eucharistic Celebration on Sunday. Fr. Edgar Ruiz, s.x. is assigned to Indonesia and  Fr. Joe Matteucig, s.x. has been reassigned to Taiwan. Fr. Joe will leave the USA at the end of August 2019 and should reach Taiwan in November, after a bit of rest in Italy.
---
2018 Xavier Knoll Mission Banquet
---
2018 Xavier Knoll Mission Festival
---
An Enchanted Evening….
The 2017 Mission Banquet was a successful event, thanks to the collaboration and participation of many!
---
Fun in the sun at the annual Xavier Knoll Mission Festival!
A weekend of family fun was enjoyed by all.  The
 prize selections were revamped for this year's festival games.  Participants picked the prize they wanted at the "redemption tent" based on the number of tickets they won while playing the games.  New bands this year were the very popular Eddie Butts Band will headline on Saturday evening and the delightful WhiskeyBells, a vintage country/folk revival band on Sunday.   
---
Xavier Knoll mourns the passing of Fr. Lawrence Crosara SX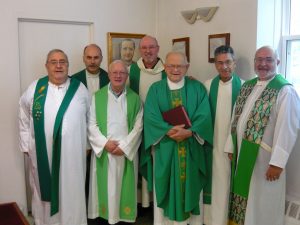 Fr. Larry Crosara SX entered eternal life on December 12, 2016. He died peacefully at home with his confreres. He was 83 years old. Fr. Larry was a wonderful confrere, friend to many, and a great missionary, working both in Sierra Leone, West Africa and in the United States. We are grateful for the life of a missionary he gifted the Church and the world. Please pray for him, his family, and all the Xaverian Missionaries. (Photo: Fr. Larry is the main presider in the middle)
Comments from Facebook include:
"I always looked forward to my visits with him at the Knoll. He was always so cheerful & funny! I love him & his contagious smile! I will miss him. My prayers, thoughts & condolences to Larry's family & the Xaverian family. May he rest I heavenly peace."
"He was a kind and loving priest dedicating his life to the missions and Jesus. He will be missed."
"We will all miss him and his sweet smile. God has welcomed him into his heavenly flock of Angels. He will continue to smile upon us from above."
---
Fr. Aniello's 50th Anniversary Celebration
Fr. Aniello's Healing Ministry
The Cathedral Parish of the Diocese of Madison hosted a Healing Mass and prayer service with Fr. Aniello Salicone SX,  on Monday, Nov. 7, at 7 p.m. at St. Patrick Church in Madison. Born in Italy in 1940, Father Salicone has served as a missionary priest in Italy, London, West Africa, and many states in America. He took a fourth vow to serve the missions. He says that over the years he has witnessed miraculous healings, including paralyzed individuals who have walked in his presence. "I don't heal. God does it," Fr. Aniello stresses. "I am simply an instrument through which God's power flows… The Lord told me one day, 'Son, I want to tell people how much I love each of them!' I am trying to fulfill the mission He gave me."
---
Mission Banquet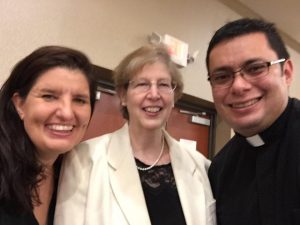 Fr. Alex enjoyed taking lots of selfies at this banquet, but with all the happy faces sharing in the fun, who could blame him?  See more on his Facebook page.
---
Celebration of 50 Years Missionary Priesthood

Fathers Dominic Caldognetto, Anthony Lalli and Ivan Marchesin gathered with friends at St. Charles Parish, Franklin, WI, on June 4, 2016. It was a marvelous opportunity to honor the long service of these men for the mission of the Church and a great time to celebrate what the Lord is doing in many parts of the world. See Pictures of the event here.
---

Franklin 2016 Xavier Knoll Mission Festival on Flickr. 
---